UCI Championships - Men's Elite Road Race
Start time: 09.30, Sunday 6 August
Location: Edinburgh to Glasgow
Distance: 271.1km
Total elevation: 3,570 metres
Trunk roads affected: M9, M90, Queensferry Crossing, A985, A876
Council roads affected: Find more information on the Edinburgh City Council and Get Ready Glasgow websites.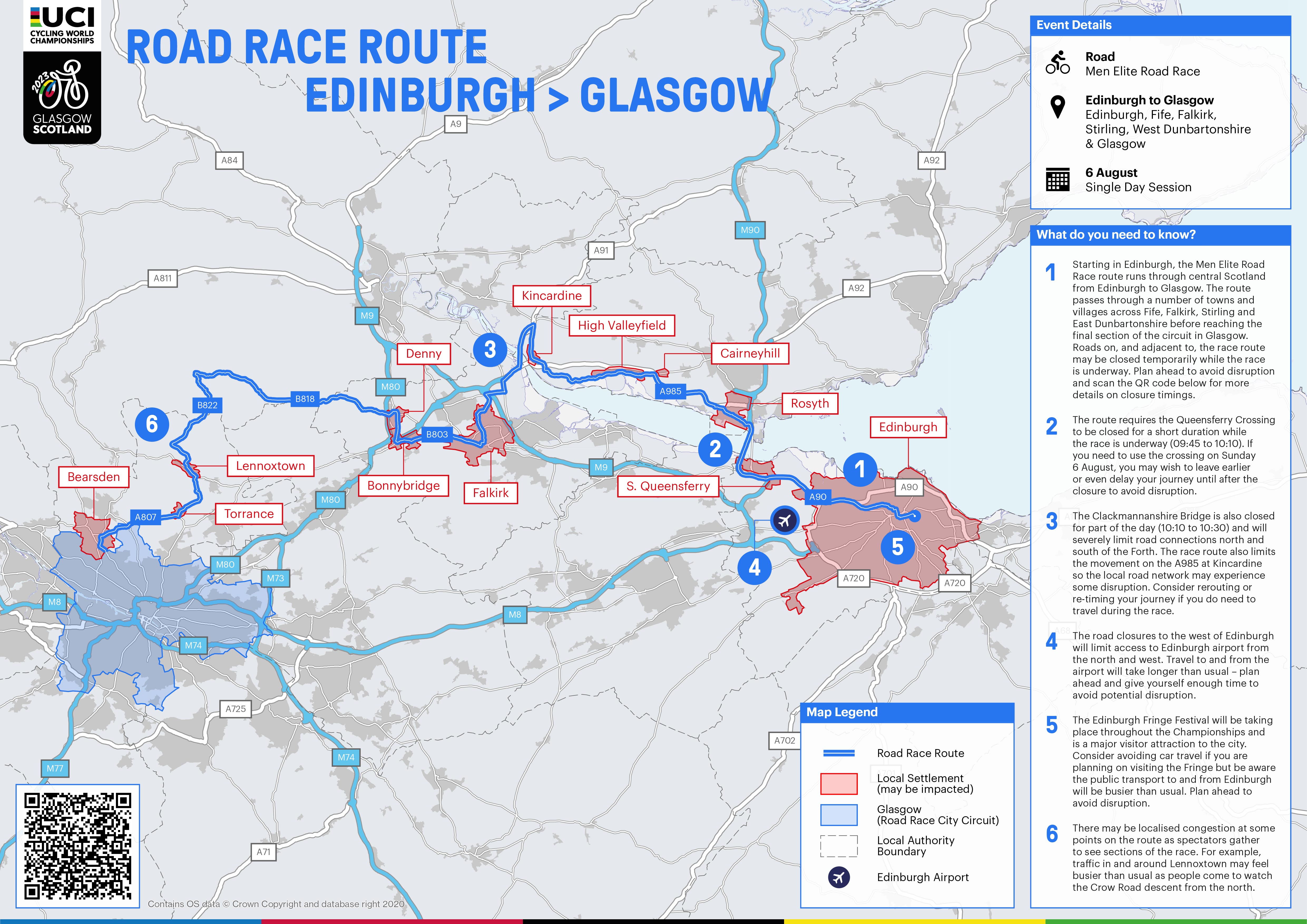 Timings
Edinburgh: 9:30 – 10:02
Fife: 10:02 – 10:36
Clackmannanshire: 10:36 – 10:40
Falkirk: 10:40 – 11:20
Stirling: 11:20 – 11:45
East Dunbartonshire: 11:45 – 12:12
Glasgow: 12:12 – 16:00
All timings are approximate and subject to change.
How will the road network be affected?
Road closures will be in place at the start in Edinburgh and finish in Glasgow. Across the remainder of the route, road closures will be in place on a rolling basis and should only last for short periods. Consider avoiding using the car on this day if you can. If you do need to use the car, plan ahead, allow extra time for your journey and avoid the road closure times.

When it is safe to do so on Sunday 6th August the M90 Northbound will be closed from M9 Junction 1A protect motorists and race participants. The A90 Northbound from the Barnton Junction, Edinburgh will be closed from around 9.30am until the race participants are all over the Queensferry Crossing. Diversions will be put in place for any restricted routes offering alternative routes and all traffic management detailing any restrictions will be published in advance of this date. Apart from the section of road between the Barnton Junction and Ferrytoll Junction the roace will be operating under rolling road closures operated by police motorcyclist.

The Queensferry Crossing is part of the route and will be closed northbound for a short duration in the morning. Avoid travelling in the area by car if you can.

The Clackmannanshire Bridge is part of the route and will be closed for a short duration in the morning from 09:45 until approximately 11am and will severely limit road connections north and south of the Forth. If you need to use the crossing, you may wish to consider delaying your journey until the afternoon.

The route limits movement on the A985 at Kincardine so the local road network may experience some disruption. Consider rerouting or retiming your journey if you can.

Road closures to the west of Edinburgh will limit access to Edinburgh airport from the north and west. Travel to and from the airport will take longer than usual - plan ahead and give yourself enough time to avoid potential disruption.

Significant road closures will be in place in Glasgow City Centre, avoid travelling in the area by car if you can.

There may be localised congestion on the route. Traffic may feel busier than usual due to the rolling road closures and spectators gathering to see the race.
Bus
Bus services will be impacted with diversions in place and changes to timetables. Check with your operator before you travel.
If travelling to the Edinburgh Festivals, consider leaving the car at home and be aware of impacts to bus services.
Check with Traveline Scotland for public transport information.
Train
Spectators are likely to use train stations along the route particularly Edinburgh, Falkirk and Glasgow so they may be busier than usual. Rail services will also be busier than usual with those planning to attend the Edinburgh Fringe Festival.
Event information on our website is provided to assist road users to plan their journeys and avoid disruption. Where Traffic Scotland do not host events, we work closely with the organisers to maximise your enjoyment by informing you of delays for your journey to and from the event. For information specific to each event, please contact the event venue or organiser. Traffic information for local roads can be found by contacting the local council.