Our new website.
What do you think?
Like our roads, we want our website to run smoothly too. We want you to get to the information you need as easily and as quickly as possible. And we certainly don't want you to get lost. That's why we need your help. We would like you to give us your feedback on our new site. The more feedback we get, the better we can make the website experience for every user.
Why do we need a new website?
Nothing lasts forever. The old Traffic Scotland website had been serving customers for over 20 years. As you might imagine, 20 years is a very long time for a website. Technology has moved on a lot in the last two decades, so it was time to create a new website that promised a better experience, easier to find information and enhanced functionality for all of Scotland's road users.
Like Stranraer to Wick, it was a long journey. We involved numerous stakeholders and focus groups in its design and development, making sure user needs were front and centre from the outset. We took our time to get it right. Two whole years of research, scoping, enhancing, finessing, testing, testing, and testing. We stopped for breaks along the way.
So what's changed and what hasn't?
We haven't changed everything. There are plenty of aspects of the new site that feel reassuringly familiar. Things like:
It still provides up-to-date information about Scotland's trunk road and motorway network
Information on upcoming events and planned roadworks is still available to help plan your journey
Traffic Scotland is still a service brought to you by Transport Scotland
New features
Following our extensive research with stakeholders and focus groups, we have added some new content to make life and travel just that little bit easier for everyone. We have added:
Traffic congestion - a new feature that displays where the hot spots are
A single map that displays all traffic information in one place
A route checker - where you can check traffic info on a particular route
It's a mobile-first site - so works just as well on your phone as your desktop
We've refreshed our branding, tone of voice and contact information to make getting in touch with the right departments at Traffic Scotland easier than ever
Our developer hub makes it easier for people to find and access Traffic Scotland data
Plan your journey
The route checker lets you check traffic info on a particular route.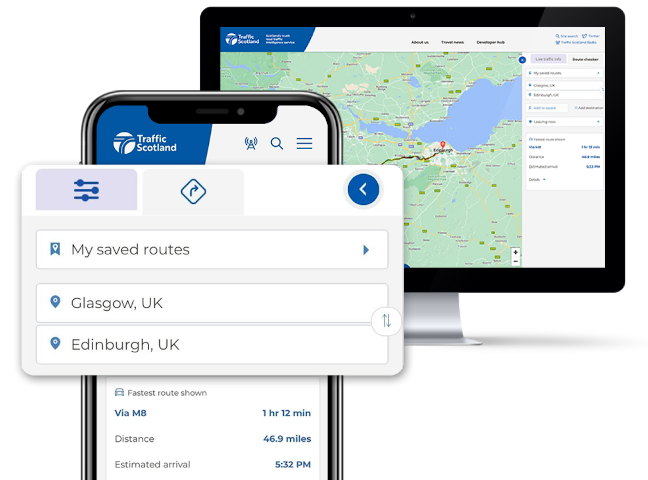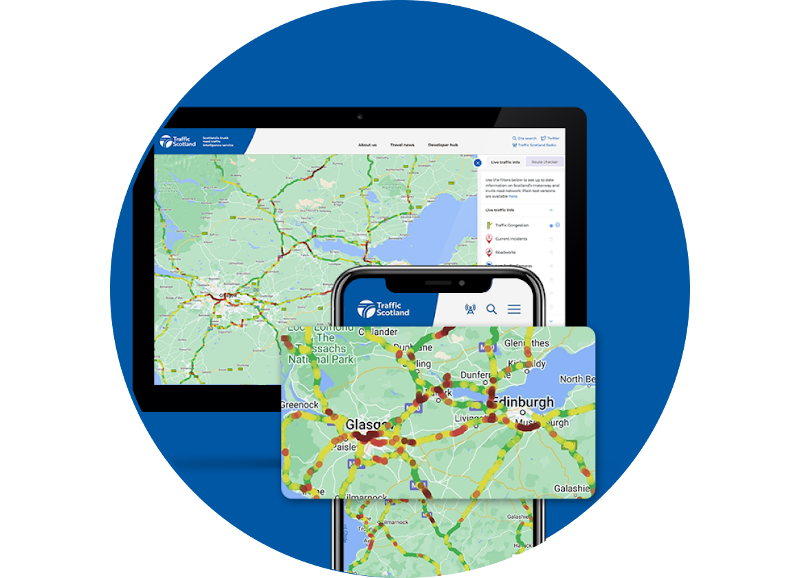 Traffic Congestion
The traffic congestion map is a new feature that displays where the hot spots are.
Traffic Scotland Radio
Traffic Scotland's internet radio service provides national and regional traffic updates.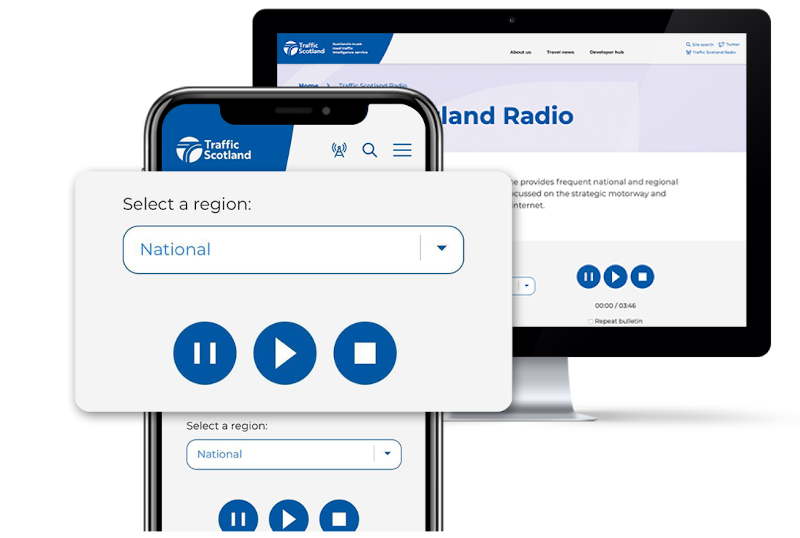 A website that we continue to improve and update
Mark Zuckerburg famously said that 'done is better than perfect' when talking about websites. It's a statement that accepts that a website is constantly evolving, responding to changes, user needs and feedback. Our website is no different, and your opinion can only help make it even better.
Maybe you have some strong views about what else we could add or adapt. This is your chance. Give us your feedback and help us make our website even better. The journey to an even better Traffic Scotland website starts here.
Thank you.