UCI Cycling World Championships 2023
From 3 August 2023 to 13 August 2023, the UCI World Cycling Championships take place in various locations across Scotland. The Championships are the annual world championships for bicycle road racing. The event includes BMX competitions, acrobatic cycling, mountain biking and para-cycling races. #PowerOfTheBike

The Championships are expected to have major impacts on the road and transport network. The following are key events impacting the strategic road network and some travel information and advice for the events.
See below for a list of host councils for information on closures and timings relating to local roads.

Please note that all information about the event shared on our website is subject to change. Check back with us nearer to the events commencing for the most up to date information and check with the event organisers for full information about the event.
Tips for travelling while the Championships are taking place:
Plan ahead - consider how your journey will be impact, allow extra time for journeys and be prepared to adjust your travel plans.
Share information and advice with family, friends, neighbours and colleagues so they can plan ahead, too.
Consider travelling at a different time - the busiest times will be just before and just after events taking place and during road events.
Public transport services will be busier than usual. For local journeys, walking or cycling may be the best option.
If you live or work close to a road event, be aware that road closures and parking restrictions will be in place.
See below for a list of host councils for information on closures and timings relating to local roads.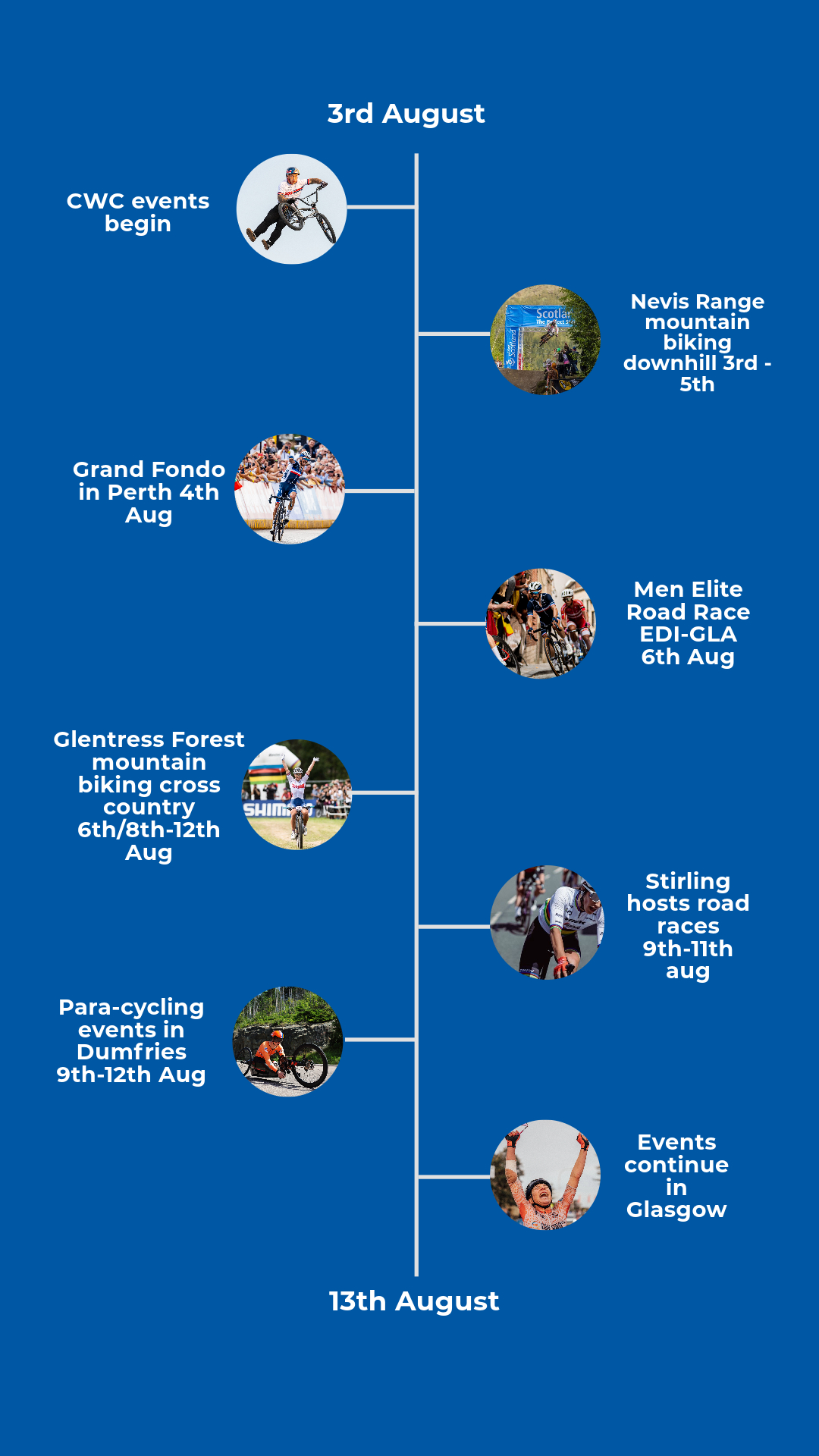 Event information on our website is provided to assist road users to plan their journeys and avoid disruption. Where Traffic Scotland do not host events, we work closely with the organisers to maximise your enjoyment by informing you of delays for your journey to and from the event. For information specific to each event, please contact the event venue or organiser. Traffic information for local roads can be found by contacting the local council.