Planned Works on M8 Junctions 16 to 17 (Woodside Viaduct)
12 March 2021 - 30 November 2023
Planned roadworks have been implemented on the eastbound M8 Junctions 16 to 17 in Glasgow to undertake maintenance to the Woodside Viaduct structure.
To ensure the safety of roadworks and the travelling public, there are speed and lane restrictions on the M8 in this area and the slip roads eastbound at Junction 18 (Charing X) and Junction 17 (Great Western Road) and west bound at Junction 15 on Slip (Townhead) and Junction 16 Off Slip (West Graham Street) are closed. Signed routes are in operation.
Generally, we want to reduce the loads on the structures and also there are some narrow lanes which are less suitable for HGVs on the M8 between junctions 16 and 17. To assist with this, we ask that HGVs consider using an alternative route.
The traffic management and diversions have been planned in consultation with Transport Scotland, Traffic Scotland, Glasgow City Council and the emergency services. Road users should plan their journey accordingly and allow extra time for travel or consider an alternative route.
A structural assessment of both the eastbound and westbound areas of the Viaduct in early March 2021 recommended action to be taken immediately. Find more information and updates on Amey's website.
M8 Woodside Viaduct - Diversion Routes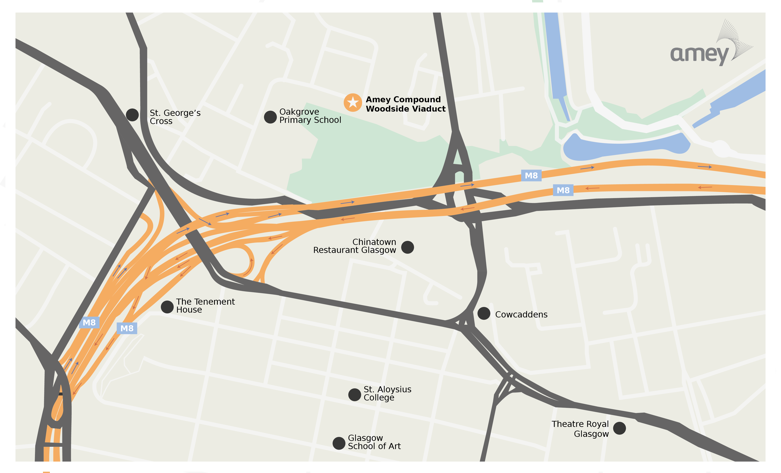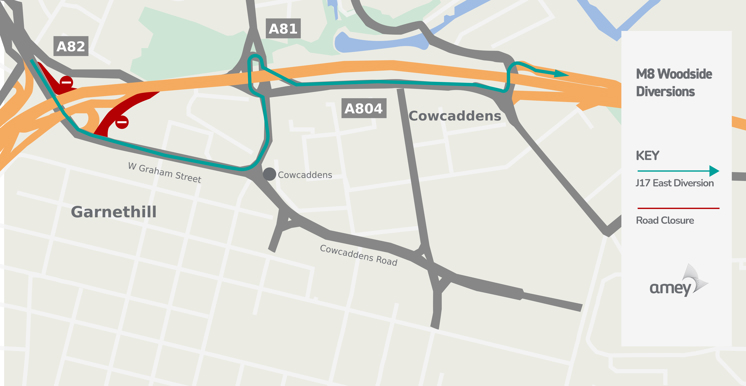 Woodside FAQs
What works are about to be undertaken on this section of the M8?
The condition of the crossheads supporting the beams of these 50-year-old viaducts was found to be worse than anticipated during structural inspections in February 2021. It was then deemed essential to prop the supporting crossheads to allow more extensive repairs to be undertaken.
The first stage of the construction programme involves excavation, piling and construction of high-level support works (props) around the existing viaduct columns which commenced on Sunday 15th August 2021. The installation of the props commenced in February 2022.
What traffic management and restrictions are currently in place?
To ensure the safety of road workers and the travelling public, speed and lane restrictions will be in place on the M8 for the full length of the structures; the eastbound on-slip road at Junction 17, and westbound on-slip at Junction 15 and Junction 17 off-slips will be closed. Slip roads at Junctions 16 and 18 remain open. Signed diversion routes are in operation.
Narrowed lanes have been introduced on the mainline of the M8 over the structures. HGVs are being encouraged to consider using an alternative route via the M74 where possible due to these narrow sections.
On the local road network, below the structure, there are nearside lane closures on both the A804 eastbound and westbound, Phoenix Road between Garscube roundabout and the westbound M8 on-slip to Junction 17.
There is currently no access to New City Road via A804 Phoenix Road. A signed diversion is in place via Scott Street and Shamrock Street to New City Road. In addition, lane narrowing is in place on the westbound M8 Junction 17 on-slip, situated beyond the right-hand turn from the A804, Phoenix Road. These restrictions are required to allow for essential excavation works to take place safely under the viaduct.
How long is disruption likely to continue on the local road beneath the structure?
Disruption to the local road network will persist until the completion of the project.
Do you have an estimate of when the temporary propping works will be completed?
Based on current projections the programme of propping works is expected to be complete by November 2023*, which will enable the permanent repairs to be undertaken.
Ongoing design work for the permanent repairs is well underway, with information gathered during the propping works being fed back into this process. An initial permanent repair trial commenced in summer 2022, which allowed the scheme designers to incorporate and address any further issues identified during construction into the final design.
*Please Note: All timings are based on current projections of the condition of the viaducts and on the issues identified to date. Programme timings and designs are subject to review and may be revised depending on further investigations or expanded to include enhanced repairs to exposed sections of the structure as work progresses. Any changes to timings will be communicated to our stakeholders using our regular channels (outlined below).
What traffic delays can be expected on the motorway network while this work is taking place?
During morning and evening peak times, delays of 10 to 25 minutes are common on the M8 due to the traffic volumes. Out with peak times, delays are generally 10 to 12 minutes.
What traffic delays can be expected on the local road networks while this work is taking place?
To ensure the safety of road workers and road users alike, traffic management and related restrictions/protection around the works will be required until the propping and repair works are complete. Unfortunately, further disruption around this area is likely. We would encourage road users to prepare for this increased traffic management by engaging with our communications channels for updates, including our website, social media and roadwork alerts. This information will allow the travelling public to plan their journey more efficiently and find an alternative route, if necessary.
During morning and evening peak times, delays will be likely on Phoenix Road as it is reduced to one lane in either direction. Delay lengths have reduced as local traffic becomes used to the diversion routes. Out with peak times, delays will be less. If possible, please use alternative routes during the works.
As work intensifies it is likely there will be increased disruption on the local roads. However, the design for the propping and repairs is being developed to provide solutions that minimise the impact on the travelling public. The programme is being regularly reviewed and updated to minimise the impact of these phases.
Will the footpaths beneath the M8 woodside at Phoenix road and new city road remain open?
To ensure the safety of road operatives and the travelling public, some footpaths may be subject to localised closures with temporary diversion routes in operation. These diversions will be well-signposted at the site with well-lit alternative routes. Every effort will be made to ensure through routes for active travel will be maintained during the project.
What work has been undertaken to date?
Specialist excavation works are well under way beneath the viaducts. The first propping elements have been delivered to site and the first of these were installed in February 2022. Some of these locations are particularly challenging due to existing gas, water and electricity mains threading beneath the viaducts. It will therefore take longer to develop and finalise safe and practical individual solutions for these locations. While this is happening, the more straightforward locations will be propped.
Certain areas are also more difficult due to the proximity to Phoenix Road, SPT subway and utilities that cannot be diverted or protected. We are liaising with the relevant stakeholders to ensure we avoid any potential disruption to these services, whilst the viaduct repair works are ongoing
Do you have an estimate of when the final repair solution will be completed?
Based on current projections, the full repair is expected to be completed in parallel with the propping works, which allow full access for repairs of the supporting crossheads.
Is there a risk the construction timings may change?
These are major viaduct refurbishment works, with bespoke design solutions being developed throughout the repair, so delays are always possible. Phases of this work may also be delayed or rescheduled if weather conditions are not favourable. Ongoing investigation work may reveal further issues to be addressed as part of the repairs. If this occurs, we will notify stakeholders of the issues and the potential impact on the timing or delivery of this essential maintenance; whilst always seeking ways to minimise disruption to the travelling public and the local community.
Why are there periods of time when it appears no one is working at this location?
While there may be periods when road users may not see significant activity on the M8 motorway, a considerable amount of investigation, design, stakeholder and construction activities are ongoing for the works on the supports below the viaducts.
Investigation and planning is vital for the efficient delivery of this project due to the number of underground services, proximity of the SPT subway and the need to keep all other modes of transport fully active in the area.
Is this work being delivered in line with Scottish Government directions on managing the Covid-19 outbreak?
Yes. Our operatives follow strict physical distancing and hygiene protocols throughout the programme, in line with the current Scottish Government's COVID-19 guidance.
How do I contact Amey if I have a complaint, a query or spot an issue on the network related to this work?
Please visit the Amey website to report a problem on the network.
How can I get more information and further updated about this project?
Where should media queries be directed?
All media enquiries should be directed to Amey's press office on 01865 713240 or via email at: press.office@amey.co.uk
We would like to thank road users, key stakeholders, residents, and businesses, who are impacted for their patience while this essential maintenance work takes place.
Latest news
Amey, on behalf of Transport Scotland, are undertaking resurfacing and lining work on the westbound M8 Woodside Viaducts main line and its off-slip roads, between Junction 17 and Junction 19, from Monday 31st October until Wednesday 2nd November 2022. The work will take place between 8pm to 6am, each night.
This scheme requires a full closure of the westbound M8 carriageway for the extent of the works, with a signed diversion in operation.
Westbound traffic will be directed to leave the M8 at Junction 16 to join the A804 and from here travel to M8 Junction 19 via A804 Dobbies Loan, Newton Street and A814 Argyle Street before re-joining the M8 Westbound at Jct 19 where the diversion will end.
Local traffic at Jct 15 intending to travel Westbound on the M8 will also be diverted through local roads to join with traffic taken off Jct 16 at Dobbies Loan.
Please note, all schemes are weather dependent and may be cancelled or rescheduled if weather conditions are not favourable.
Visit our homepage and use the map and its route checker to view any live and future disruptions that may impact your journey.
Listen to the Traffic Scotland Radio for the latest national and regional traffic and travel updates.
Follow us on Twitter @trafficscotland for real-time updates on the Trunk Road Network.