Advice for visiting Scotland in 2023
Planning a holiday in Scotland?
Scotland's Trunk Road Network passes through some of the country's most popular beauty spots. Loch Ness, Loch Lomond, and the North Coast 500 are all accessible by the trunk network. We welcome any visitors to our beautiful country, but there are a few things you should keep in mind if you plan to use the roads.
Wherever you're travelling from, we've put together some top tips on how to best plan your journey and avoid disruption.
We drive on the left
Most countries around the world drive on the right. However, it's important to remember when you're driving in Scotland to do the opposite and keep left.
When you're driving off or joining a new road keep left.
If you're joining a roundabout, give way to oncoming traffic from the right. When you leave the roundabout, keep left.
If you stop to get fuel, for a rest or to take in some scenery (in a safe location), when you rejoin the road keep left.
Driving in Scotland - Advice for Visitors
More safety tips
Always wear a seatbelt. Not wearing a seatbelt can have big consequences. Your friends' and family's lives could all be affected. So, don't ever skip it – even for short journeys.
Know the speed limit and stick within it. There's no excuse for speeding and it can have devastating consequences. Speed limits are there to keep you and others safe.
Drink-driving - it is illegal to drive while under the influence of alcohol or drugs in Scotland. Police Scotland have a zero-tolerance policy. The best approach is none.
Most single track roads only have space for one vehicle. More about passing places on rural roads below.
Be careful on country roads
Once you get out of the Central Belt, roads are a little bit different – even the Trunk Network. We have mountains, lochs, and forests to contend with, so you'll find there are a lot of bends in the more rural areas.
Local roads might also be single track – in which case you'll need to make use of passing places. Please don't park in passing places, this will cause an obstruction for other drivers on the road. If you see a vehicle coming towards you, or the driver behind wants to overtake, pull into a passing place on your left, or wait opposite a passing place on your right.
Animals are also more common in rural areas so exercise extra caution. If you're near farms you should be prepared for livestock on the roads as well as an increased chance of slow-moving vehicles.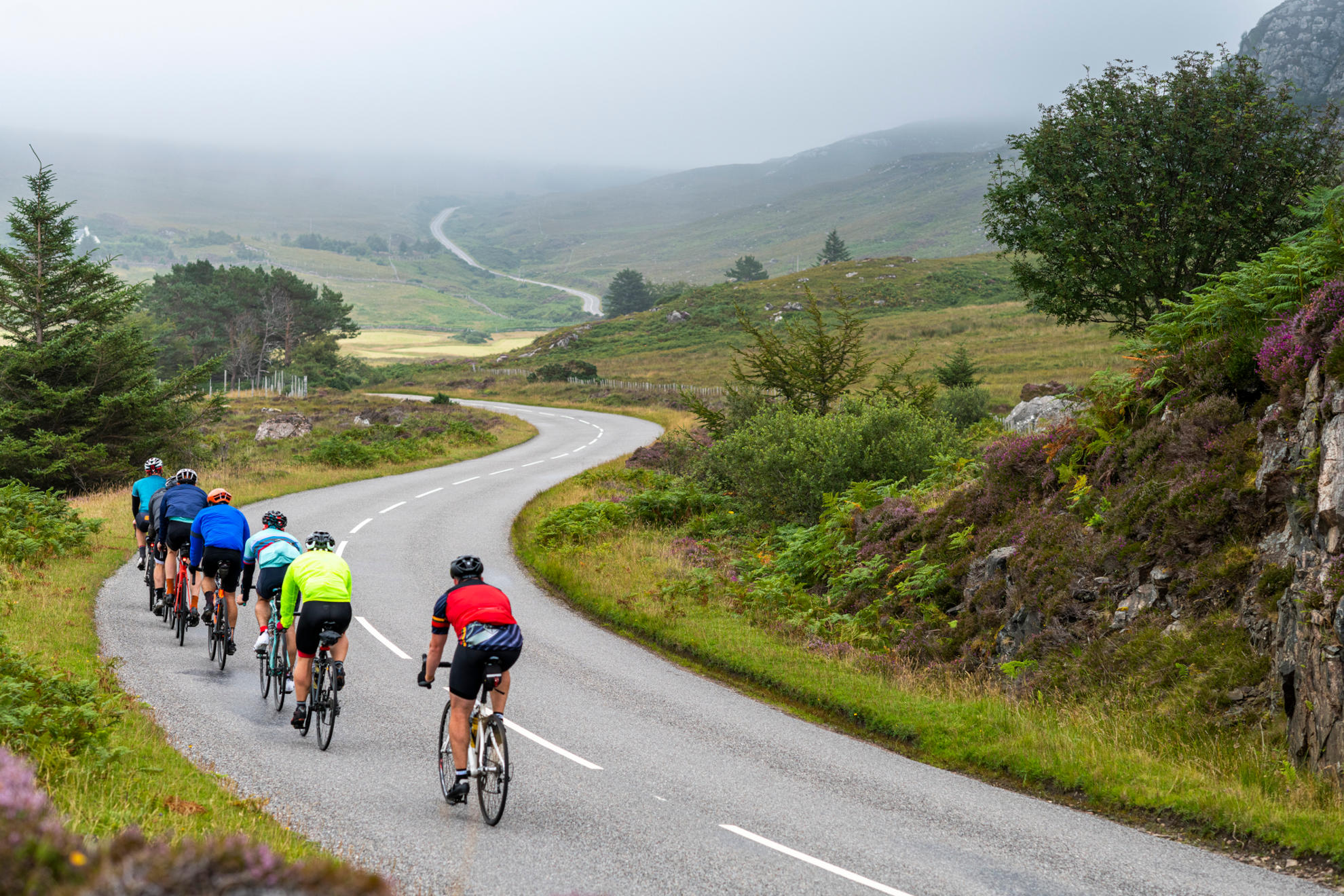 Drink a coffee. Have a rest. And survive.
Plan your journey and allow plenty of breaks. Driving tired kills. Make it a holiday to remember for the right reasons!
Driving tired can result in higher impact collisions.
Take a break every two hours, for 15-20 minute at a time.
Getting around
Consider public transport alternatives

Scotland has a wide range of public transport options. We have trains, buses and ferries to get you around. Deciding to use these, rather than driving, can make for a more relaxing journey without the stress of having to navigate the roads.
You can plan your journey on the Traveline website.
Vehicle hire
There is the option to rent a vehicle to get around Scotland. If you decide this is the best way to get around for you, remember we drive on the left. More information about vehicle hire can be found on the Visit Scotland website. Always plan your journey using the map on our homepage.
Active travel
You can find a National Cycle route on the Sustrans' website to explore and use for your everyday travel and for leisure, or use the map on our home page to view the National Cycle Network to explore our beautiful country. More information about walking and cycling in Scotland can be found in our Green Hub.
If you're planning to stay in one place, such as Edinburgh, Glasgow or Inverness, touring the city by foot or bike is great idea. It gives you the chance to take in the city you're in at your own pace.
Plenty of tourists in Scotland enjoy our stunning scenery by climbing one of our hundreds of mountains. This is also a great way to take in the landscape and see what Scotland is all about.
Camping in Scotland
If you're considering camping in Scotland, whether in a tent or a campervan, it's important to remember these things; a good Ordnance Survey map is a good place to start.
Keep Scotland Beautiful
Our stunning scenery is one of the top reasons people visit Scotland – and we want to keep it that way. Avoid littering – and where possible use proper recycling bins.
You should also use local services if you need a refreshment break. There are plenty of public toilets across Scotland that are free to use.
We also recommend opting for environmentally friendly alternatives when possible. Scotland has an extensive rail and bus network and many tour providers now offer eco-conscious experiences.