Weather warnings explained
If there is a weather warning in your area and you're not sure what it means for your travel plans, we have information that can help.
What are weather warnings?
The Met Office issue weather warnings to alert people that there is a high chance of dangerous weather. This can be for rain, thunderstorms, wind, snow, lightning, ice, extreme heat and fog.
During autumn and winter, there is an increase in unsettled weather and with it a greater chance of weather warnings being issued.
How do weather warnings work?
Weather warnings are given a colour (yellow, amber or red) depending on a combination of both the impact the weather may have and the likelihood of those impacts occurring.
Yellow and amber warnings represent a range of impact levels and likelihoods. This means it is important to read each warning to know what level of impact you can expect for your chosen warning area – and how likely those impacts are to occur.
Yellow warning: yellow warnings can be issued when it is likely that the weather will cause some low-level impacts, including some disruption to travel in a few places. Many people may be able to continue with their daily routine, but there will be some that will be directly impacted and so it is important to assess if you could be affected.
Amber warning: there is an increased likelihood of impacts from severe weather, which could potentially disrupt your plans. This means there is the possibility of travel delays, road and rail closures and the potential risk to life.
Red warning: dangerous weather is expected and, if you haven't already done so, you should take action now to keep yourself and others safe from the impact of the severe weather. It is very likely that there will be a risk to life, with substantial disruption to travel, you should avoid travelling, where possible, and follow the advice of the emergency services and local authorities.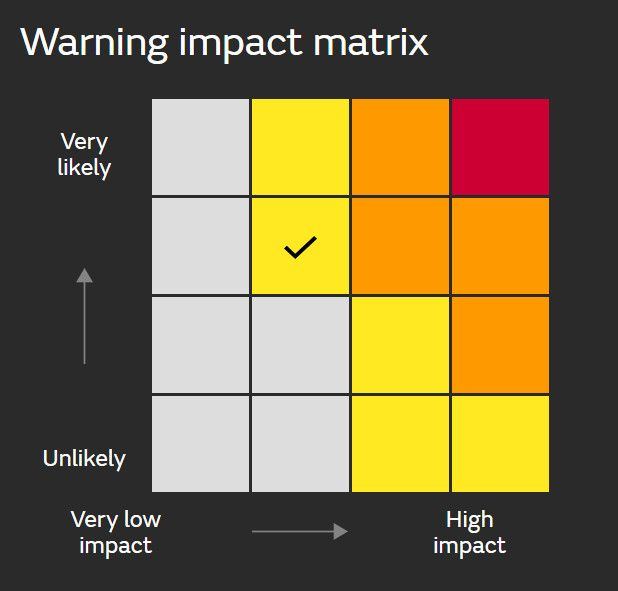 Should I drive if there is a weather warning?
If possible, you should avoid driving no matter the warning level. Driving in a yellow warning may not pose a likely risk, but there is likely to be increased congestion and disruption on the road. Driving in amber and red warnings pose a greater risk, therefore travel should be avoided unless absolutely essential.
Is my insurance valid if I drive during a red weather warning?
Driving during a weather warning does not automatically invalidate your insurance but making a claim may be more difficult.
If your insurer can prove negligence (i.e driving on a road when advised not to) they could refuse your claim. If in doubt, avoid driving during red weather warnings.
Plan ahead
To find out if there is a weather warning in your area, visit our traffic info map and use our 'weather warnings' filter.
How the Met Office work with Traffic Scotland: