Are you ready for winter?
1st of October 2022, 12:00am

to

15th of May 2023, 12:00am
Are you ready for Winter?
Traffic Scotland is here to ensure road users are provided with current and reliable information regarding the Trunk Road Network. We aim to ensure the travelling public have all available facts to make an informed decision about their journey.
Planning Ahead
We are all about information and we try to provide as much as possible to allow for the road user to decide on their travel plans, whether than means using an alternate route or possibly postponing the journey for better weather.
For live road updates, weather issues, journey planning, public transport information and much more, please use the services below:
You can use the services available on this website to access key information (cameras, roadworks, congestion, weather stations and events) and access the 24/7 Traffic Scotland Internet Radio.This service compliments information via roadside Variable Message Signs and is also passed to media outlets (radio, television and other websites).
If travelling by public transport, please check the Traveline Scotland website or download the app to your mobile device. Traveline Scotland provide information on public transport access across a number of transport operators and will provide you with the latest public transport information to plan your journey.
High Wind Restrictions
When there are high winds the Police and Transport Scotland communicate warnings regarding specific danger to high-sided vehicles on the networks, including bridges. By high-sided, we mean vehicles that are of greater than average height (for example double decker buses, high-sided rigid or articulated HGV/s, furniture vans, Luton vans, vehicles towing trailers or caravans, modified transit vans and similar vehicles).
Operational procedures and advice in relation to high winds are designed to maintain the safety of bridge to maintain the safety of bridge users and to minimise disruption to traffic caused by overturned vehicles. Should there be any wind restrictions, drivers of high sided vehicles should divert via an alternative route as early as possible. It is every driver's responsibility to consider the safety of their own vehicle and that of other road users.
Gritting
Depending on the forecast weather conditions, Transport Scotland has a fleet of gritters ready to display to treat the trunk roads. All this information including a map of the treated routes throughout Scotland and the new Trunk Road Gritter Tracker can be found via the Winter Gritter Information page on the website.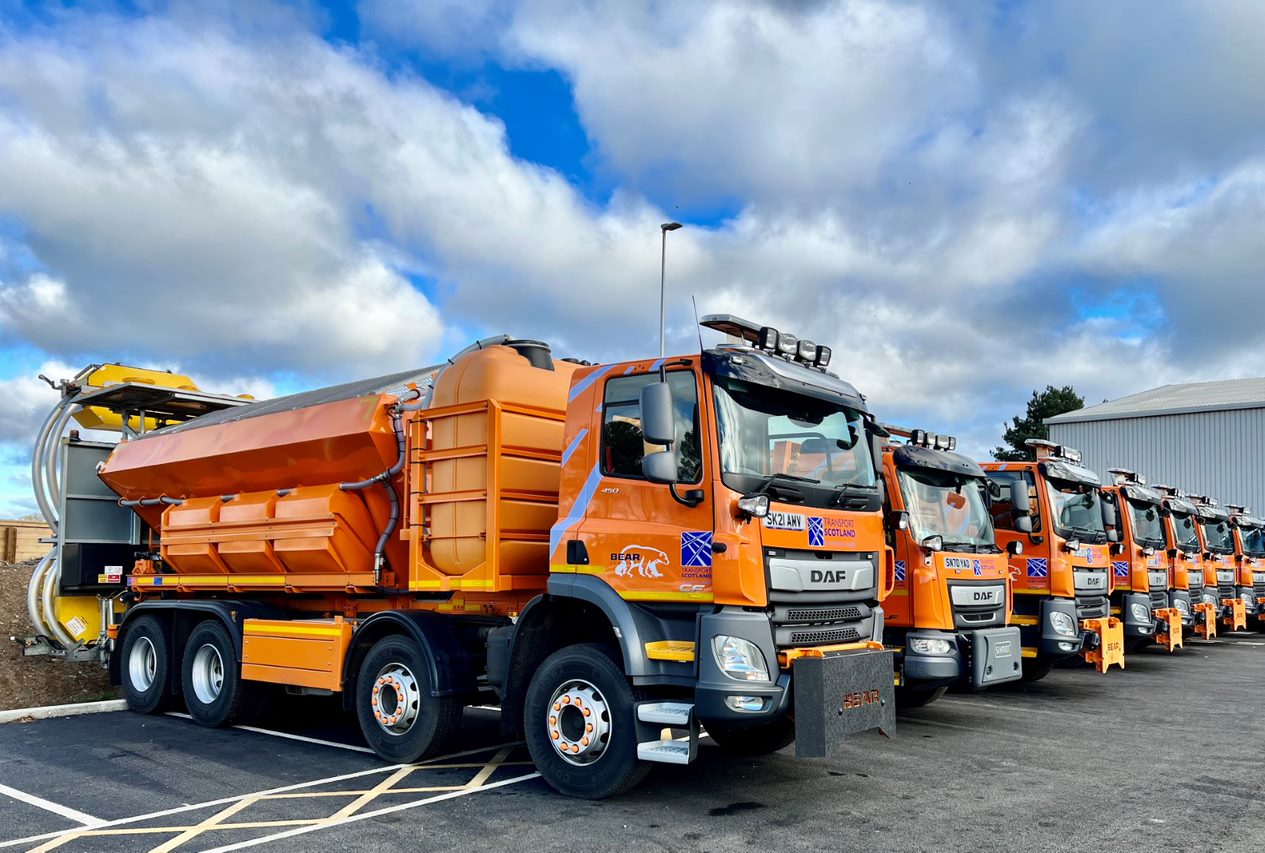 I.C.E. - In case of Emergency
It is important during times of severe weather that you always tell someone when to expect you in case of an incident out on the network.
Most importantly, we advice that you keep your phone fully charged so you are able to contact someone in case of emergency or to ensure emergency services personnel can can access contracts to inform your family if you have been involved in an incident. It is important to note that these details could also be written down in your wallet to ensure you have more than one emergency contact on you at all times.
Emergency Kit
If you are a regular commuter and spend a number of hours in your car each week, The Scottish Government advise that you prepare an emergency kit to have in case of a crisis.
The need for these kits is more likely during the winter months due to the likelihood of severe weather issues, however preparing your car prior to your journey is the most important aspect of planning ahead. Please utilise the features highlighted above before you set off for any trip.
Between October and April is regarded as the winter period to those in the transport industry and it is within this time period you should add items to your emergency kit to make it more winter friendly.
We recommend you have:
A first aid kit
Jump leads
Torch
Batteries
Map
Blanket and a reflective sign
During the winter, we suggest you add:
An ice scraper
De-icer
Snow shovel
Cat litter or a piece of carpet for grip in snow
Warm clothes, boots/waterproof shoes and socks
Matches
High visibility vest
Screen wash
Non-perishable food/snacks
Water and a flask of hot liquid
All items of emergency kit should be secured down either in a duffle bag or box with a lid. Having free standing items in your car can be dangerous in the event of an RTC or another incident.
The Scottish Government, alongside Transport Scotland, provide a wealth of information about planning for severe weather and winter in general via the Get Ready Scotland website. If you are embarking on an unusually long journey or are in an area prone to extreme weather this website provides information, advice and further links to professional help.
Friendly Advice
Below is a range of advice on driving during sever weather, for further information and advice please visit the Ready Scotland website.
Weather warnings: Yellow - Be Aware; Amber - Be Prepared; Red - Take Action
When driving during fog/dusk/dawn please ensure you have the correct lights on at all times
Watch out for sun glare, have a pair of sunglasses in your car for those bright winter mornings
Wear comfortable and warm shoes to drive in bad weather to avoid them slipping from the pedals
Leave a safe distance to the car in front
In rain your stopping distance is doubled
In snow/ice your stopping distance is ten times longer
Remember to check your tyres and lights before a journey
Give your car time to heat up and only drive when you have full visibility from all mirrors and windows
Minimum safe tyre tread is 1.6mm
When driving on snow, gentle and smooth manoeuvres are the best way, keep it light on the clutch, otherwise you drive the tyre further into the snow and this is when you will get stuck
Downhill in snow - reduce your speed before the slope, user a low gear and avoid touching the breaks
Uphill in snow - wait until it is clear to drive (you do not want to stop half way up) and keep a constant speed and gear, avoiding shifting while on the slope
Do NOT rely on your brakes to slow you down in snow, stay in a high gear and let the car stop naturally or risk skidding
Always make sure you are topped up with fuel and in snowy weather ensure your exhaust is not being blocked by snow as toxic gasses can enter the vehicle
Avoid using local shortcuts during the winter months as they are less likely to have been treated for ice and snow
In falling snow, make sure to use your dipped headlights or fog lights to make yourself more visible to road users and pedestrians. Make sure to turn them off when snow subsides.
Keep on top of your screen wash and ensure you have the right consistency to prevent freezing
To avoid your car door locks freezing, spray a little WD-40 on each handle. If they have frozen, heat up your key with a lighter to melt the ice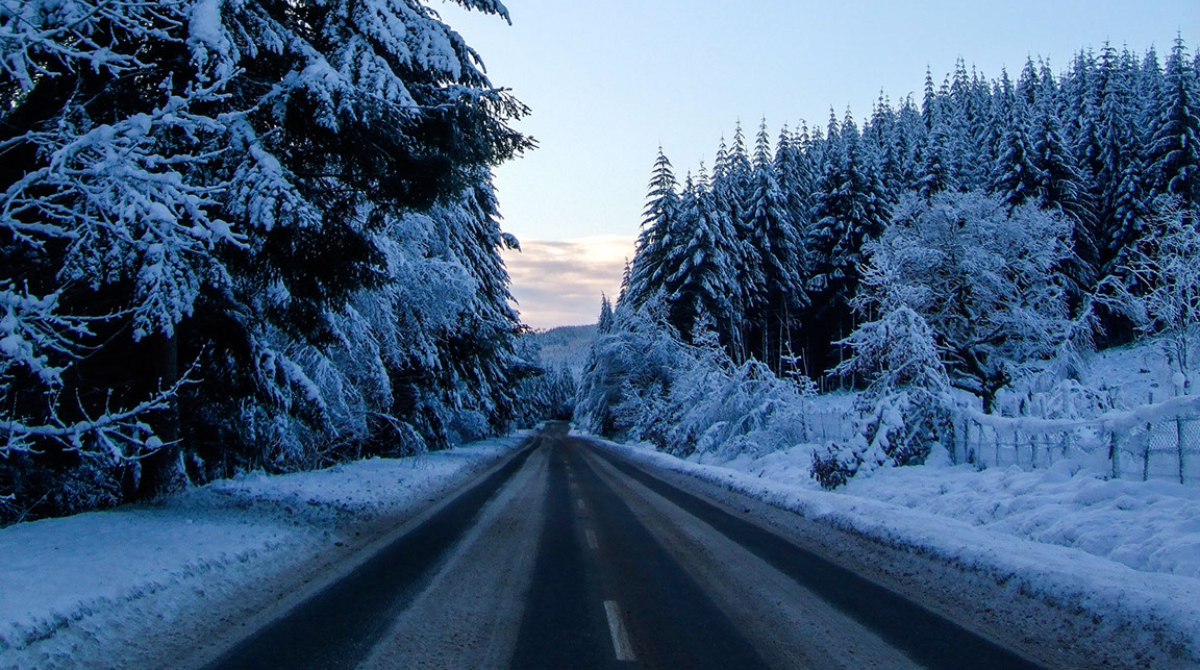 How to prevent skidding
To prevent see advice below:
Maintain your tyres to a good standard and ensure they have adequate treads
Drive slower in wet, icy or snowy road conditions
Slow down well before a turn or bend
Ensure you are in the appropriate gear when at a bend or junction
Never break harshly,